How Can I Make My Small Balcony Beautiful?
Whether you are the owner of a small balcony it doesn't mean that you have to compromise on style and your comfort. With a bit of creativity and thoughtful planning, you can transform your compact outdoor space into a beautiful space that brings joy and relaxation. In this article, I'll share some inspiring ideas and practical tips to help you make the most of your very small balcony without lot of spending.
Small Balcony Ideas on a Budget
When working with a limited budget, it's important to prioritize and maximize the impact of your design choices. Here are a few budget-friendly ideas to spruce up your small balcony:
Vertical Greenery:
Create a lush and vibrant atmosphere by utilizing vertical space. Hang colorful planters or install a vertical garden to add a touch of nature to your balcony. Check out this inspiring article for more tips on small space balcony arrangements.
DIY Decor:
Embrace your creative side and craft personalized decorations for your balcony. Upcycle old furniture with a fresh coat of paint, or repurpose wooden crates as versatile storage solutions. Explore DIY projects that suit your style and add a unique touch to your outdoor haven.
Invest in space-saving furniture that serves multiple purposes. Look for foldable chairs or stools that can be easily tucked away when not in use. Enhance comfort with weather-resistant cushions and throw pillows. Don't forget to consider the scale of the furniture to ensure it fits well on your small balcony.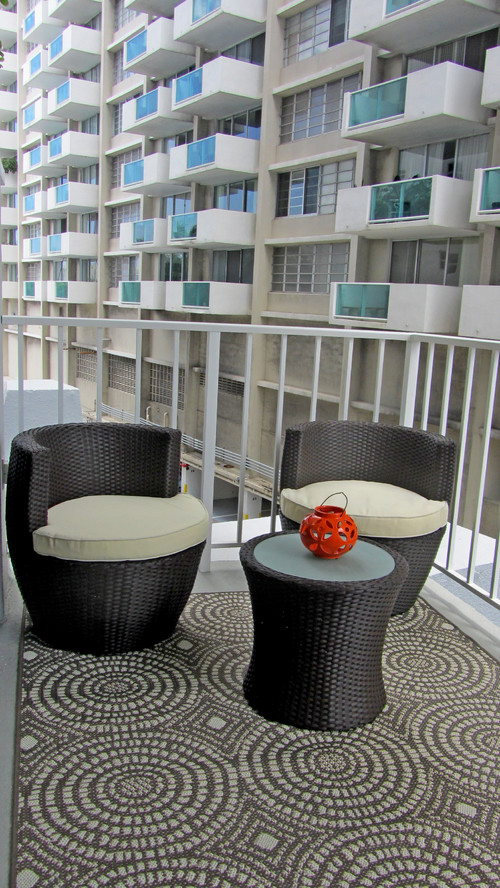 Small Balcony Furniture Ideas
Selecting the right furniture is crucial for maximizing both aesthetics and functionality in a small balcony. Here are some furniture ideas to consider: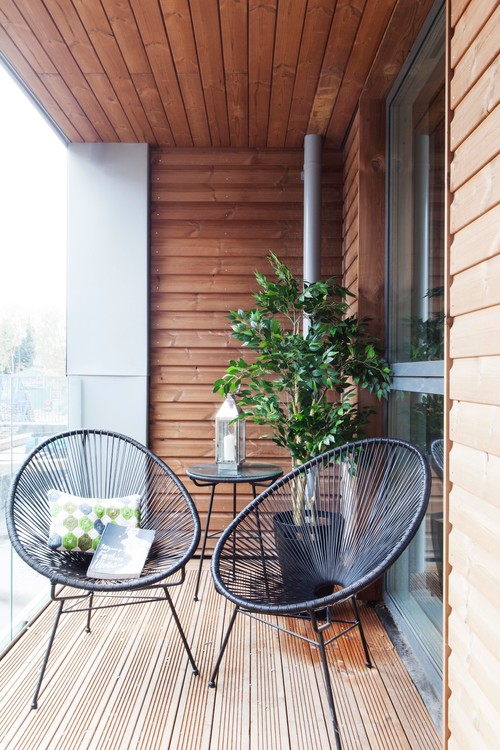 Bistro Set: Opt for a compact bistro set consisting of a small table and a couple of chairs. This classic choice adds a charming touch to your balcony and provides a cozy spot for enjoying morning coffee or a sunset dinner.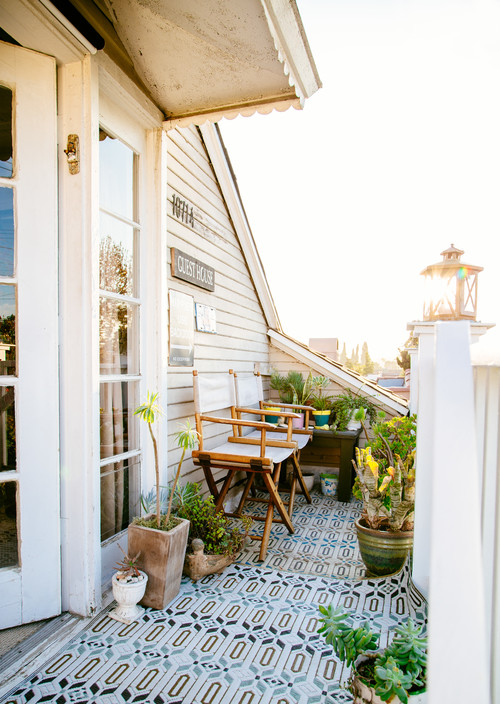 Folding Table: If space is extremely limited, consider a folding table that can be mounted on the balcony railing. This ingenious solution allows you to have a table when needed and frees up valuable floor space when not in use.
Built-in Bench: Make the most of every inch by installing a built-in bench along the perimeter of your balcony. This not only provides ample seating but also offers extra storage space underneath for cushions, gardening tools, or other essentials.
Cozy Small Balcony Ideas
Creating a cozy ambiance is essential for transforming your small balcony into a sanctuary of relaxation. Here are some ideas to achieve that cozy feel:
Soft Lighting:
Add a magical touch to your balcony with soft, ambient lighting. Hang string lights, or lanterns, or use candlelight to create a warm and inviting atmosphere during evenings.
Textured Rugs:
Lay down a weather-resistant rug to add texture and visual interest to your balcony. This simple addition instantly makes the space feel cozy and comfortable underfoot.
Cushions and Throws:
Enhance the comfort factor with plush cushions and throws. Choose weather-resistant fabrics in colors and patterns that complement your overall balcony design.
Apartment Balcony Privacy Ideas
Privacy can be a concern, especially in apartment buildings or crowded neighborhoods. Here are a few ideas to create a private oasis on your balcony:
Trellis with Climbing Plants:
Install a trellis and let climbing plants, such as jasmine or ivy, grow along it. These natural screens not only provide privacy but also add a touch of greenery to your balcony.
Bamboo Blinds or Curtains:
Hang bamboo blinds or curtains along the railing to create a cozy and secluded atmosphere. They not only shield you from prying eyes but also add a touch of elegance to your balcony decor.

Balcony Privacy Screens:
Invest in privacy screens specifically designed for balconies. These versatile screens come in various styles and materials, allowing you to customize the level of privacy you desire.
With a little imagination and smart planning, your small balcony can become a captivating oasis that brings you joy and relaxation. Remember to make the most of vertical space, choose furniture wisely, create a cozy atmosphere, and explore privacy options that suit your needs. For more inspiring outdoor balcony design ideas, be sure to check out this urban oasis article. So go ahead, embrace the potential of your small balcony, and transform it into a beautiful haven that reflects your personal style and enhances your outdoor living experience.