The holidays are almost here, and it's time to start planning how you'll decorate your small balcony space for the holidays. With a little creativity and some budget-friendly DIY projects, you can easily transform your balcony into a festive winter wonderland! Here are some ideas to get you started.
When decorating your apartment balcony or patio for the holidays, it's important to select items that are made of weather-resistant materials. Look for Christmas decorations designed specifically for outdoor use so they can withstand the elements. Choosing pieces made of durable, all-weather fabrics, woods, metals and plastics will allow your festive display to last through the season, rain, snow or shine!
Lights Galore/ Balcony star lanterns
String lights instantly add a magical, festive touch and are perfect for decorating a balcony on a budget. Opt for basic white string lights or go colorful with lights in different shapes and sizes. Wrap them around your balcony railing, doorway, or the edges of shelves. Battery-operated lights are affordable and easy to install without wiring. For extra sparkle, add some metallic ribbon or tinsel garland to your light display.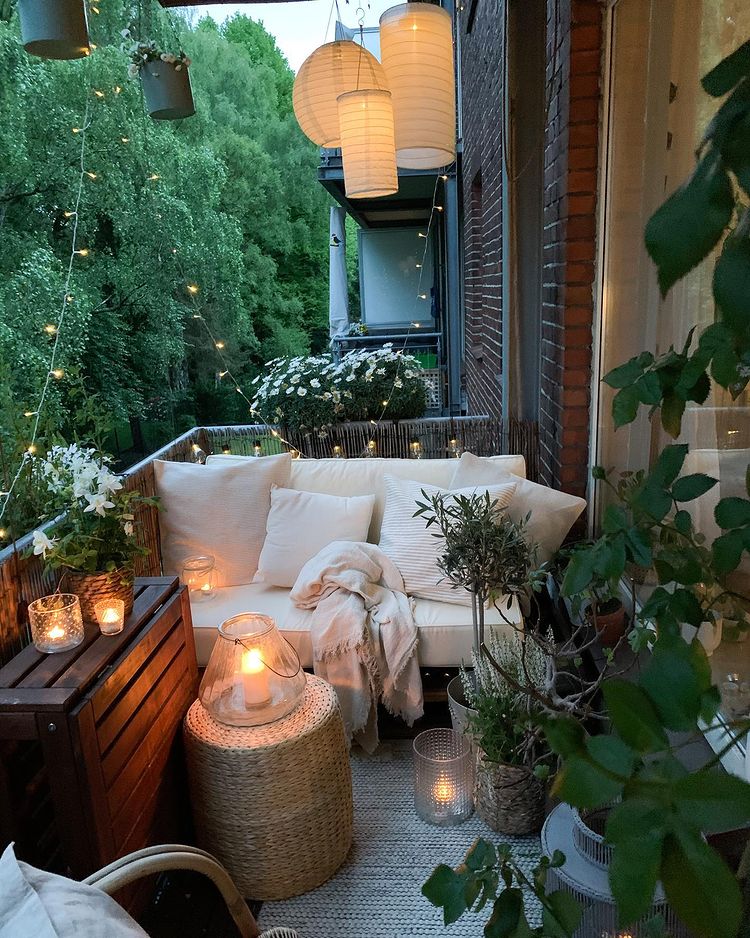 Festive Planters
With a few inexpensive additions, your planters can pull double duty during the holidays. Paint terra cotta pots with acrylic craft paint in festive colors like red, green, or white, and tie a ribbon around each. Fill your planters with winter greens like pine, holly, or eucalyptus. Add pinecones, ornaments, or string lights for an extra decorative touch.
Opt for reusable LED lights to minimize energy consumption, create garlands from recycled paper, and choose potted evergreens that can be replanted after the holidays. Consider DIY projects using reclaimed materials for a personalized touch, and say hello to a sustainable and stylish Christmas balcony decor that leaves a lighter footprint on the planet."
Create a chic winter terrace
A chic winter terrace outfitted with sleek black metal seating, an elegant hairpin leg table, and a round fire bowl for ambiance. Faux fur throws and flickering candles add cozy texture and warmth, while a miniature tree trimmed in lights brings festive flair. The contemporary furnishings and accessories create a sophisticated outdoor escape.
Natural Decorations
Look to nature for budget-friendly and biodegradable holiday decor. Gather fallen pinecones, acorns, twigs, and dried seed pods and arrange them in glass jars or planters. Pop in faux berries or mini ornaments for color. Wrap your balcony railings with garlands of fresh cedar, pine, or magnolia branches.
Some unique ways to repurpose everyday items into Christmas decorations for your balcony
Turn everyday items into festive treasures! Transform old tin cans into twinkling lanterns, repurpose wine corks into charming ornaments, and give new life to unused wooden crates as rustic plant holders. Get creative with what you have, and watch your balcony come alive with unique and sustainable Christmas decorations!
I hope these ideas help inspire you to creatively decorate your balcony for the holidays without breaking the bank. Let me know if you need any other suggestions for budget-friendly DIY holiday decor!